A quick guide
---
2023 7th POP UP ASIA Trade Fair – Registration Process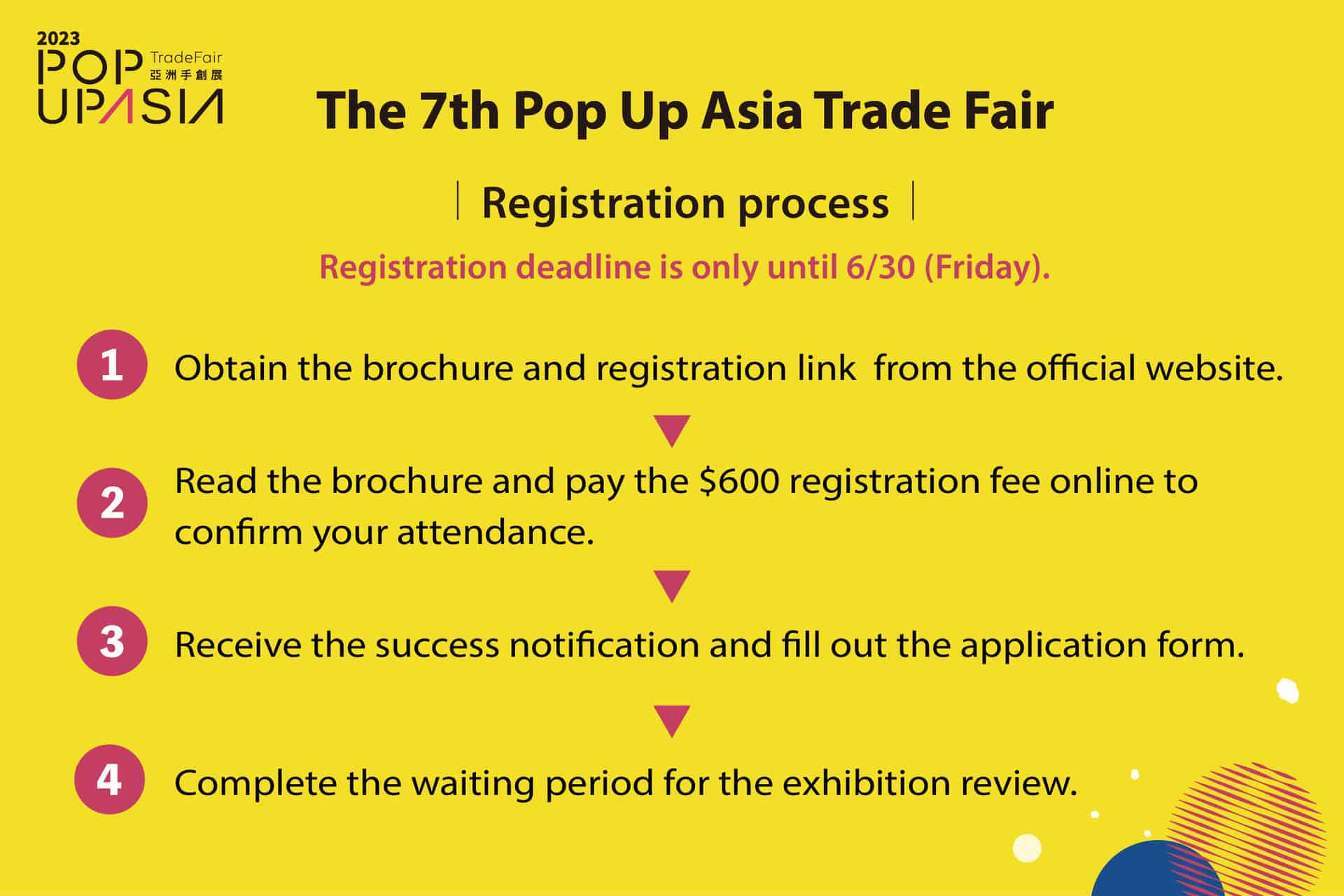 STEP 1. Visit the official website of POPUPASIA and click on "BOOTH REGISTRATION". After reading the web page information, leave your contact details to receive a free application brochure.
STEP 2. Final confirmation and pay the registration fee:
Once you receive the application brochure via email, please click the registration link provided to confirm your attendance. To complete the registration, a NTD $600 registration fee is required and can be conveniently paid online.
STEP 3. Submit your brand profile:
Upon successful payment of the registration fee, you will receive a confirmation letter along with the official 'Booth Application Form.' Please provide your company details, brand information, and any business matchmaking needs. This information will help the selection committee understand your company's goals and aspirations.
STEP 4. Application Review by Selection Committee
Our selection committee, consisting of professional platforms, channels, and the POPUPASIA team, will carefully evaluate all applications. The final selection process considers criteria such as uniqueness, quality, market potential, and compatibility with the exhibition area.
If you successfully pass the review and selection process.
To secure your participation, please proceed with the payment of the booth fee no later than Monday, July 31, 2023. Priority for selecting the booth location will be given to exhibitors who complete the payment first. It is essential to note that failure to submit the booth fee by the specified due date will be considered as a withdrawal from participating in the exhibition. Ensure a smooth and seamless experience by promptly completing the payment process and securing your desired booth location.
Booth Location Coordination
To ensure a fair and transparent allocation of booth locations, a booth location negotiation session will be held on Thursday, August 31, 2023. During this session, exhibitors will have the opportunity to discuss and finalize their preferred booth locations.
Here are the key details about the booth location coordination:
Date and Time:
The booth location negotiation session is scheduled for Thursday, August 31, 2023. Specific timing and further instructions will be provided closer to the event date.
Participation:
All exhibitors who have successfully paid the booth fee within the specified deadline are eligible to participate in the booth location coordination session.
Process:
The booth location negotiation will be conducted in a collaborative and organized manner. Exhibitors will have the chance to express their preferences and discuss possible arrangements with the event organizers. The final allocation of booth locations will be determined based on a consensus reached during the negotiation session.
Fairness and Priority:
Our aim is to ensure fairness in the booth location selection process. Priority will be given to exhibitors who have completed their booth fee payment early, as they will have the first opportunity to choose their preferred booth locations. However, we will strive to accommodate the preferences of all participating exhibitors to the best of our ability. Please stay tuned for further communication and instructions regarding the booth location coordination session. We appreciate your understanding and cooperation as we work towards creating a successful and enjoyable exhibition experience for all participants.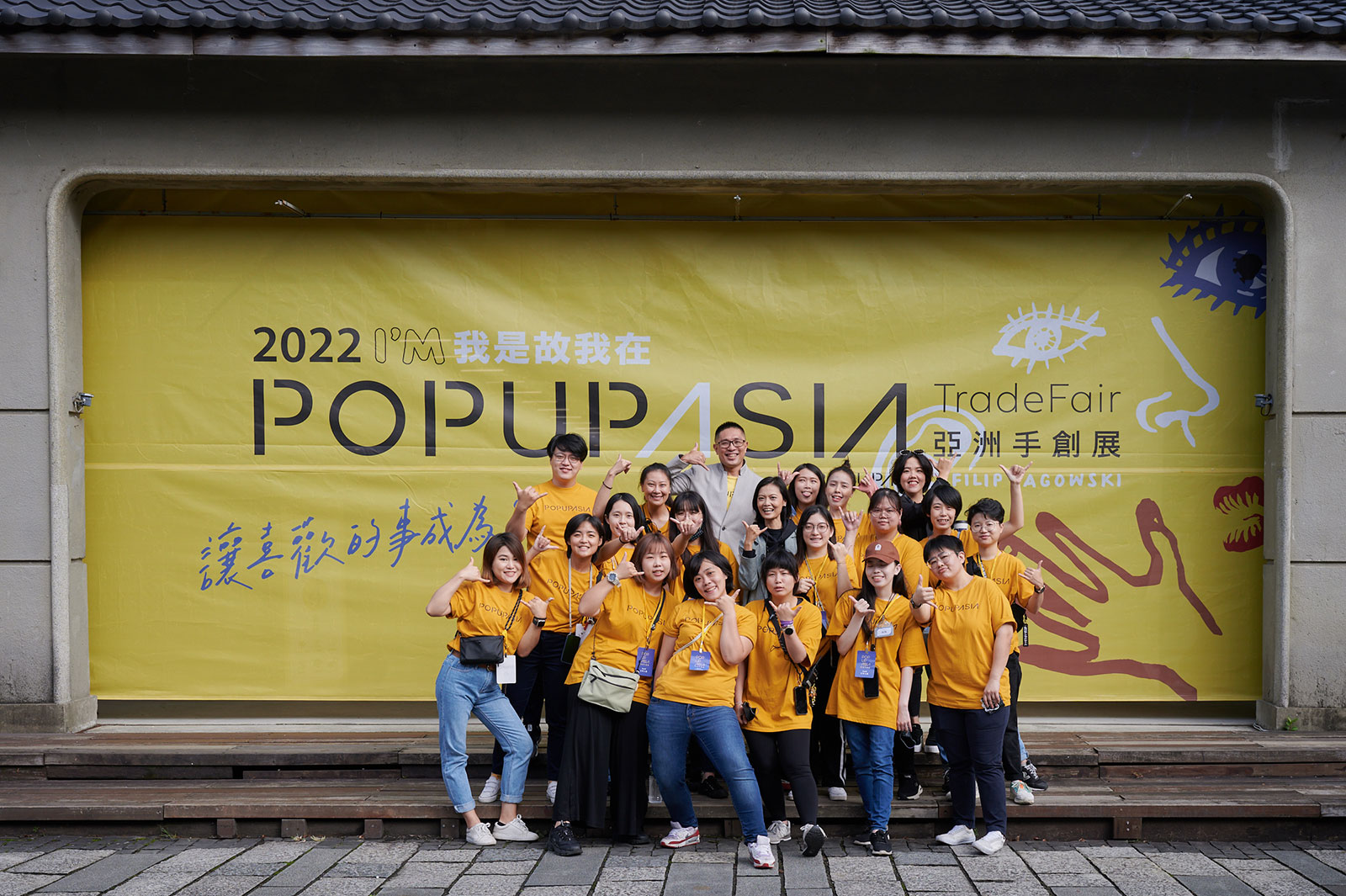 【More Information】
◇ 2023 7th POP UP ASIA Trade Fair, Register now!
◇ What unique opportunities does POP UP ASIA Trade Fair offer for brand owners and buyers?